As published at Manifest

Advertising may seem like a strategy for large businesses with equally large budgets and manpower. However, most small businesses see the merits of advertising, too.
The Manifest recently conducted a survey of 529 small businesses from across the U.S. about their advertising habits and found that nearly all small businesses advertise (87%). The survey analysis featured IPNY's, named as an advertising agency leader, very own Tim Smith as an expert source on these findings. The results show that advertising is an important strategy for businesses of all sizes.
Small Businesses Advertise on a Variety of Mediums
Small businesses are likely to advertise on multiple mediums, but digital advertising is the most popular. Digital advertising, including social media and online channels such as Google search, is important in reaching customers where they are throughout much of their day – online.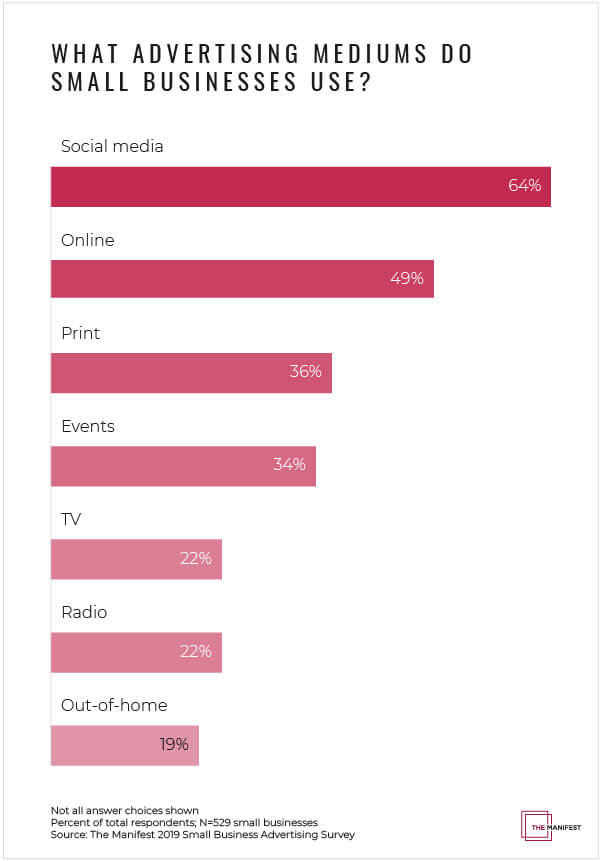 Many people say that businesses should focus their efforts on other social media channels, but that isn't true – 86% of small businesses that advertise on social media invest in Facebook advertising. That's 35% more than the second-most-popular channel, YouTube. "People say Facebook is dying, but by and large, it's the biggest social platform in the world," Smith said.
Traditional Advertising Still Works for Many Small Businesses
Although small businesses are more likely to advertise on digital mediums, many still value traditional advertising such as TV, print, and radio.
In fact, 57% of small businesses use traditional advertising. Because TV, radio, and print ads have been around for so long, consumers are more likely to trust traditional advertising than digital. Advertising on traditional channels also helps small businesses reach consumers when they're not on social media or online, such as while on their commute, watching TV, or listening to the radio.
Generational Differences in Advertising Habits
Unsurprisingly, millennials are more likely than older generations to advertise their businesses on digital mediums. "Millennials grew up online," Smith said. "To even reach them, you have to go online, and millennials understand that."
What is surprising is the fact that millennials are also more likely to advertise on traditional mediums such as TV and radio.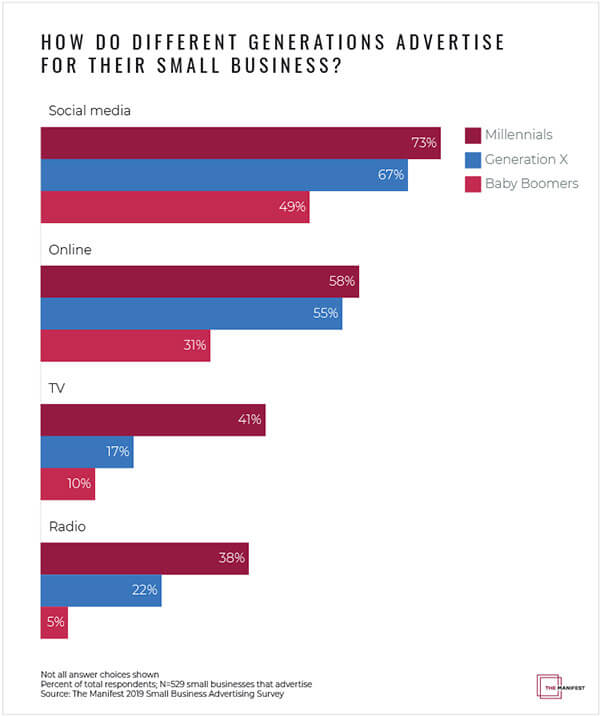 Older generations have likely already tested out the traditional advertising mediums and figured out what works and what doesn't – if a business tests out a TV ad and finds it to be unsuccessful, it is unlikely to continue spending money on TV advertising.
Millennials, on the other hand, are more likely to use traditional mediums because their businesses are young, and they therefore do not yet know which advertising mediums will work for their business.
Small Businesses Should Advertise
Advertising isn't just for large companies. Small businesses can benefit from advertising by reaching the most consumers possible and enticing them to make a purchase. If you don't advertise, odds are, your competitors are and are reaching more of your target audience than your business.