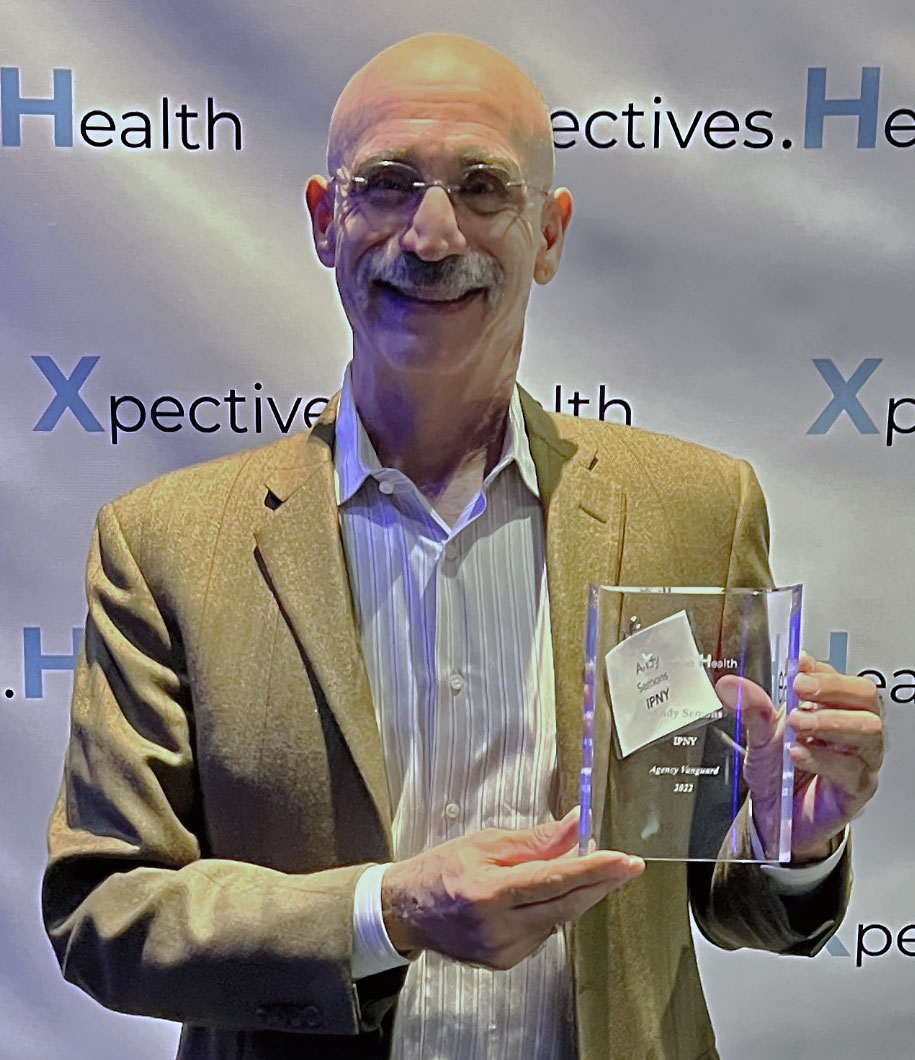 Awarded at a live event celebrating healthcare leaders.
Below is the nomination letter by Bruce Lee, IPNY's Founder and Chief Creative Officer, that beautifully summarizes Andy's skills and talents.
This past May marks the first decade that IPNY has been in business. Which is an accomplishment at a time when most startup agencies don't make it past the first year. There are many reasons why IPNY has had such good fortune. One of the most significant is Andy Semons. 
As one of our three Agency Founders and head of Strategic Planning, Andy has been an inspiration from the moment we opened our doors. We opened them with no clients and no income and within two weeks we had both, thanks to Andy's skill and persuasiveness. The client was The Leukemia & Lymphoma Society (LLS). They needed a brand film. But having done little advertising, they had no brand to speak of. Andy suggested doing some discovery research to find out what made LLS distinctive as a cancer research organization. The interviews Andy conducted within the organization and with leading scientists gave us a wealth of insight into the extraordinary impact LLS has had on the cancer landscape. This strategic work became the rock-solid foundation of "Someday is Today", IPNY's pioneering first healthcare campaign. In less than one year it put LLS on the map as a leading-edge charitable organization and produced an unprecedented lift in donations. And it set the bar for the kind of kind of creative IPNY has produced ever since: Beautifully crafted work that makes scientific and medical breakthroughs easy to understand without diminishing how revolutionary they are.    
Year after year, Andy has been MVP in helping our agency grow. From groundbreaking work for LLS we went on to create brand-building communications for City of Hope Medical Center, an influential California-based cancer research hospital that desperately needed national awareness. Andy's strategic vision inspired the much-imitated creative campaign, "The Miracle of Science with Soul", that not only raised record awareness levels but brought IPNY even more recognition (winning the MM&M Awards Grand Prize, among many others) and significant new business wins, including Dana-Farber Cancer Center, for whom we've created two brand campaigns that have given this top five research hospital the recognition it has never achieved in over 70 years.
Healthcare is not the only category of work IPNY engages in, but over ten years it has become our most rewarding business sector. During the worst of the COVID crisis we were called on by the biotech innovator Regeneron to help introduce a new class of therapies, monoclonal antibodies, for high-risk COVID-19 patients. Andy's strategic ingenuity set the course for an essential digital and multi-media public service education program that succeeded by every measure. And his leadership on the recent win of a healthcare nonprofit has, at the time of this writing, sold in a campaign that will have a major effect on pediatric cardiac health in over 80 emerging countries around the world.
IPNY is a big agency packed in a small frame. Every player must punch above his or her weight. No one epitomizes that more than Andy Semons. He is a marketer with over 40 years of experience working on influential campaigns too numerous to mention. At Ogilvy & Mather he devoted years to growing their healthcare practice, including many notable DTC and OTC campaigns. His humanity is evident from the moment you meet him. People love to talk to him. He is genuinely interested in who they are and what they know and it's astounding what he gets them to reveal. I've been working as his creative partner for decades now and I can honestly say that Andy's touch always makes our work deeper, smarter, and more honest. 
I can't think of anyone more deserving of this nomination than Andy Semons.