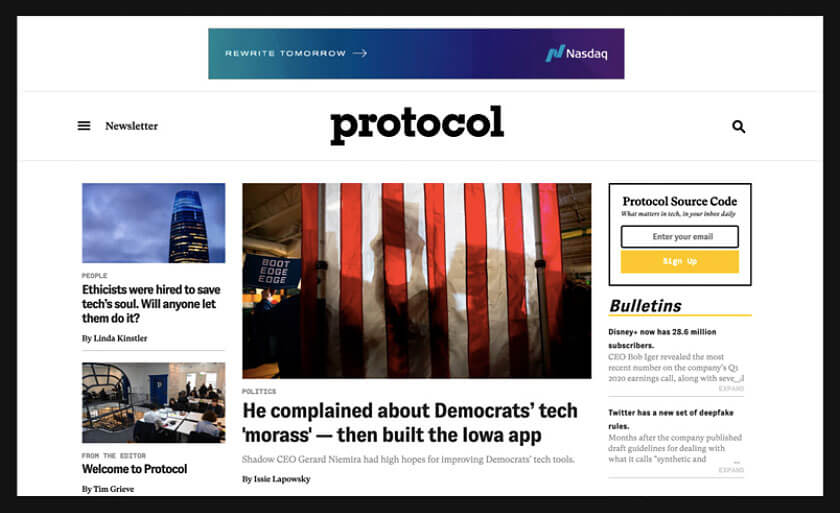 As published in adweek.com, by Sara Jerde

The niche news site is Politico's cousin, according to president Tammy Wincup
Key insights:
• Though they share a publisher, Protocol and Politico are different.
• The site will launch without a paywall, but may implement a paid tier.
• Protocol will have several unique offerings, including a Slack app.
After Robert Allbritton, publisher of politics-centric news organization Politico, saw the need to cover an aggressively changing tech industry, he landed on a concept that borrowed from the political site's model: niche reporting that would draw loyal readers from the areas it covers. Editors want this new tech site, which went live today, to prioritize deeper, investigative reporting. Welcome to Protocol.
While Politico and Protocol "share the same DNA," said Tammy Wincup, president of Protocol, she's quick to note they are two separate entities with different audiences.
"The key about what [Politico has] been able to do is their coverage is fair and unbiased," Wincup said. "Tech needs that right now."
Sponsors at the site's launch include Facebook, Postmates and Slack. And while Protocol debuted without a paywall, Wincup said she can foresee a similar model in which Politico operates with a paid-tier model that gives everyone some content for free, and additional articles or content for a price.
The site is staffed with five sales reps, and the publisher declined to disclose specific CPM figures beyond saying through a spokesperson that they are "indicative of our influencer audience."
"The reality is there's no great one-stop shop where you, as a decision maker in the C-suite of a tech business, will see yourself in that reporting," Wincup said.
Wincup said the site will focus its coverage on stories considered must-reads for those decision-makers. On Wednesday, the site led with headlines including "Ethicists were hired to save tech's soul. Will anyone let them do it?" and "He complained about Democrats' tech 'morass'—then built the Iowa app."
Media buyers seemed intrigued by Protocol, which joins an industry with other niche tech sites like The Information, The Verge and Input.
"[It's] very dependent on content, but it should attract a highly intelligent, influential audience that would be worth paying a premium for," said Tim Smith, director of communications and media planning at agency IPNY. "It would be a great environment for corporate campaigns, business services, innovative technologies and others—as long as it comes across unbiased politically."
The site also offers a Slack app and newsletters, including the daily news roundup Source Code from editor at large David Pierce, and extensive looks at specific industry topics such quantum computing called Protocol Manuals. Live events are also in the works.
More than 25 reporters have come on board from newsrooms like The Wall Street Journal, Vox Media, The New York Times and Forbes.
"There is such a gap between how we're looking at technology, but this is a new opportunity to create a new entity that really treated technology not as industry but as a center that's influencing personal lives, businesses, to really tell that story," Wincup said.